Abstracts
"What shadow are you leaving?" I question myself often during this journey of parenting. Being a mother has been the most rewarding experience, and the most challenging one. Because of my past, death is a tangible reality and a constant reminder of the fragile present.
Like you, I strive to be the best I can be, with my children and, to them. Despite of it, the worst of me also comes out sometimes, in the least favorable moments - questioning my parenthood abilities.
These paintings are a deep look into my soul. The abstract paintings are the ones that explain best what parenthood is. Everyday you see it differently. Sometimes is joyful and other days is not so much.
My father wisely told me when my first baby was born, "se te acabo la tranquilidad para toda la vida" (Tranquility is over for the rest of your life.) They were harsh words but full of truth. Thankfully he added, "You can do it…with lots of patience and lots of love."
Love is definitely there, the patience part… I work on it everyday!
Most of the pieces in this series are painted with the impasto technique, to express the heavy strokes in life and the overwhelming feelings. The strong colors reflect the intense emotions of being a parent. It's a beautiful stage; nevertheless, a very complex one.
Each painting has its own story and it was painted in a particular way rather than trying to make every painting in the show flow together. There are some peaceful paintings, some full of joy, some passionate, some distressed, and some desperate. Pretty much how life is and how parenthood feels.
I use the word shadow instead of foot print or legacy because of its double connotation. Shadow might seem negative, scary, yet the stronger the light, the stronger the shadow.
1. A Mother's Heart
It is the one painting I didn't pay attention to artistic rules. The feelings needed to come out letting my heart guide the spatula. That day I began to experience separation and my heart was broken. I felt empty and made me reflect on the strongest moments of pain in my life; pregnancy and separation.
The painting shows the four stages of life as I perceive them. It begins with the bottom profile of a pregnant woman. It is followed by the image of the baby being carried in a rebozo, or sling, in the back of the mother. The third stage is when the child is growing and they are still holding hands beginning to leave a shadow. Finally, the last stage of life is the separation. The child has grown starting his own journey and one can only see the shadow of the mother.
The painting started with the cold colors and then the warm colors were added as of coming out from the mom's heart and the baby's heart. They are united through life and depart when mom leaves. However, some of the warmth remains with the child.
Red hue is only used twice in the most painful moments, pregnancy and separation.
She leaves a shadow, in this case the shadow reads, LOVE.
As we all are going to leave a shadow, it's up to us the type of shadow we leave.
2. Dilemma
Maternal anguish. We often feel that what we do is not good enough and we agonize over every decision.
What's the right thing to do?
Protecting You Always
A peaceful moment that you want to breathe it all in.
If you see closely, the mom's eye was painted with her eye closed. However, looking from a distance it seems the eye is opened – she will always be looking out for him.
There Is a Reason
The past was hard and the future is uncertain, but what matters is right this moment and I am with you.
- The moments that matter most are the simple ones. A kiss, a hug, a caress, sitting next to them… all of those will remind them that we are present. They will make them stronger and will prepare them for their next life chapter. For when we depart, those moments will exist only in their memory.
With impasto technique this group of paintings represents those glimpses.
Hope and Happiness
What shadow would you like to leave? What words would you like them to remember? These two words and the father and the child images are in the painting. Do you see them?
Refuge, Strength, Confidence
Words will be forgotten but lived moments will be implanted in their heart.
Inevitable
One knows it will happen at some point but it is a distant future. Suddenly, and without warning, something happens and the fearful separation becomes a reality.
Red hue is used in the first two panels but not in the last one. The pain strengthens
25-26. It's Not Easy.
It has started to depart from the bold, rich colors and begins to fade, to turn dark.
.
Reflecting on the past when pausing for a brief moment, I go over and over in my head trying to figure out where I made the mistake. I have always been free with my praise. In fact, maybe I had gone too far, although life knows, I had meant every word.
27. Let Her Go….She Can Do It
It portrays a reflection of my own separation experience with my mom. I clearly remember the feeling I saw in her eyes. She was trying to be strong while feeling helpless. She was terrified to let me go to another continent, another culture, a country of war.
It's the anguish one feels when we see the world sometimes as a threat and it's seems frightening. Still, we are reminded that the time has come. The colors have faded. It's time to let go. The future seems uncertain…difficult.
You don't want to throw her at the world knowing you are not always going to be there to protect her.
But you must to trust yourself, trust what you've done; you must have faith and Let Her Go….She Can Do It.
A Mother's Heart
Mixed media, 48" x 24"
SOLD - Giclees available
Dilemma
Acrylic on canvas, 60" x 48"
Together
Acrylic on wood panel, 44" x 36"
SOLD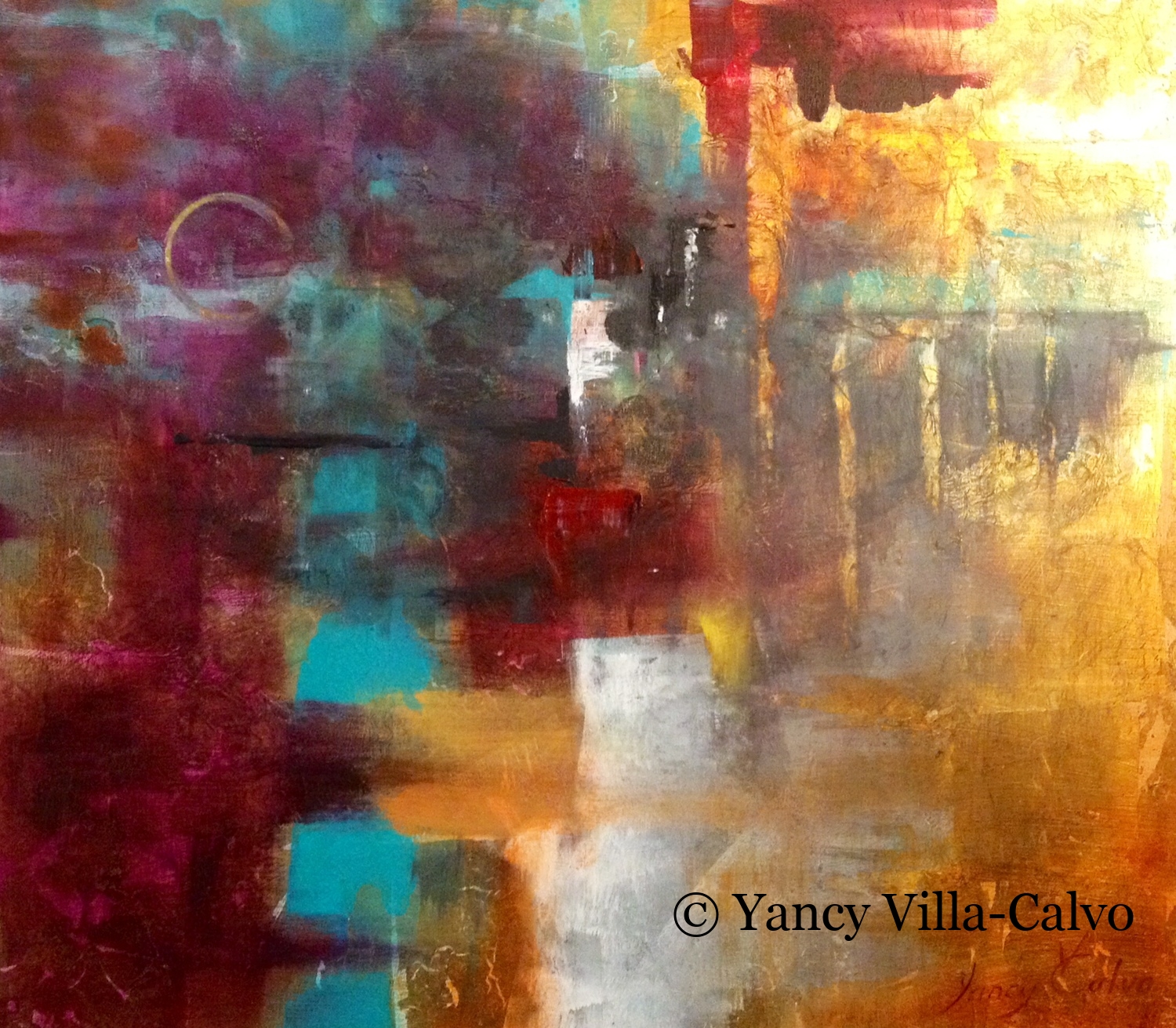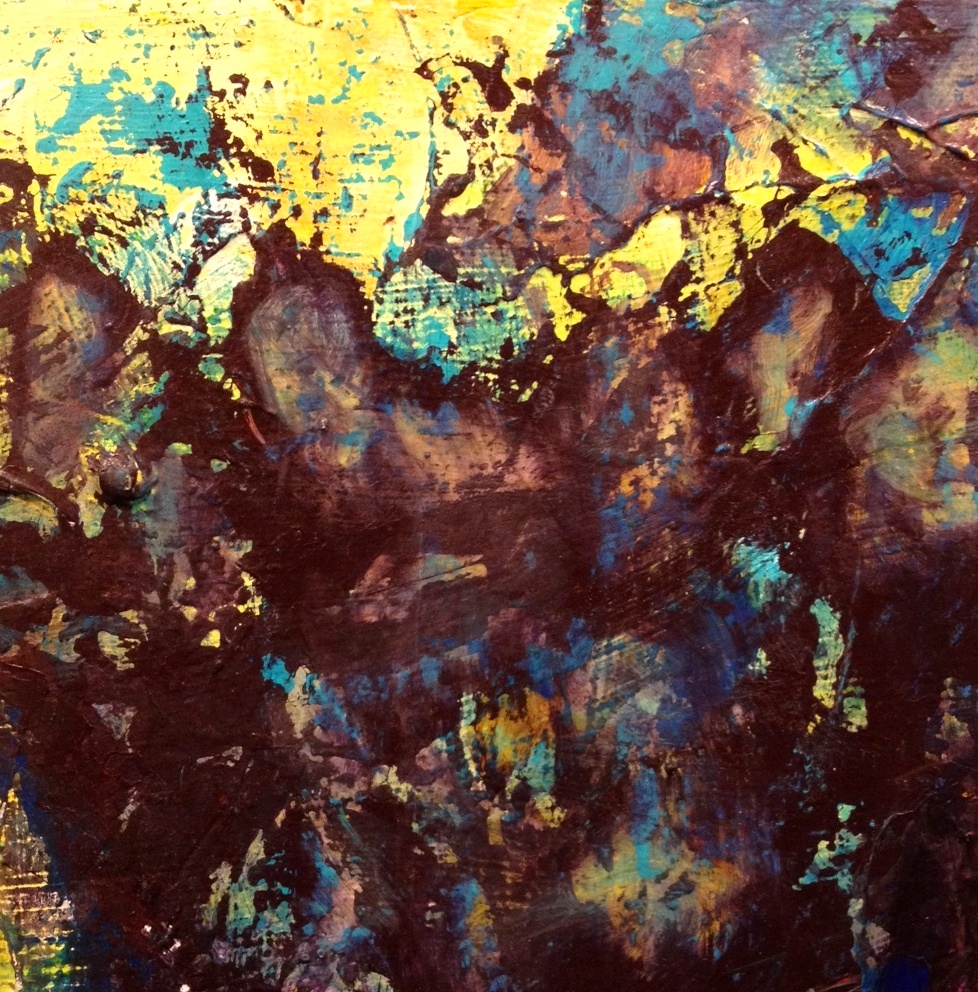 Beginning (diptych) Acrylic over goldleaf on wood, 24" x 19" each panel
Inevitable 2
Acrylic on canvas, 24" x 12"
Untitled
Acrylic on reclaimed wood,
36" x 80"